Fair Charter - Terms & Conditions Checked & Trusted
Trust, good results and satisfaction of our clients and partners are the foundation of our Zadar yacht charter company. We understand that making long-term vacation plans is more stressful and challenging than ever. Therefore, we find it essential to rebuild your trust every year.
Our YACHT-POOL quality seals are now renewed for the year 2023:
We are a member of the YACHT-POOL Financial Security System – meaning we have been approved by YACHT-POOL and your charter payments can, upon request, be secured by YACHT-POOL.
With the abundance of charter companies that are operating today, the neutral YACHT-POOL system is a compass that directs clients toward quality providers who are creditworthy and fair while conducting business.
It separates those that claim to provide a safe and risk-free charter experience from those that can back up such claims with metrics and yearly economic performance.
Charter providers are listed as "Checked & Trusted" only in the case that their annual revenue and their economic balance are positively tested by YACHT-POOL.
The YACHT-POOL Financial Security system protects the clients, and it's something essential for all serious charter providers and agencies.
The certificate is valid for one year. This is imperative so that businesses do not get complacent. Companies annually receive this seal if business conduct and service meet the YACHT-POOL's high-quality standards.
For clients and skippers, it offers a sense of security while booking a charter far in advance during uncertain economic times.
The seal provides not only additional confidence in us but also allows our clients to create a Yacht Pool insurance policy with coverage including cancelation due to possible issues like the Covid-19 virus and protection against the insolvency of the charter company.
If you would like to know more details, please contact [email protected]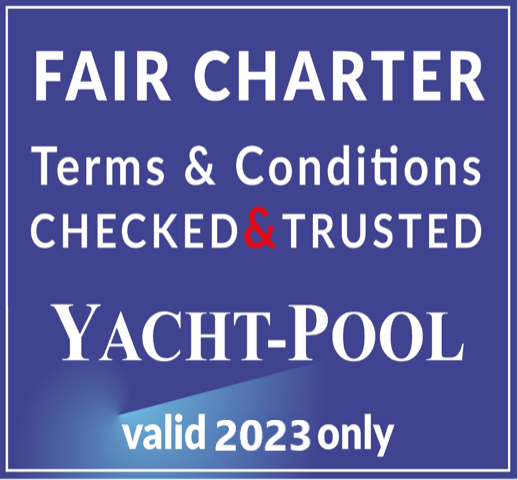 Fair Charter - Terms & Conditions Checked & Trusted
The Fair Charter 19 is formulated by YACHT-POOL as a neutral institution in the fair balance of the interests of the charterer and the charter company based on the current legal requirements.
The charter Fairtrag means far-reaching legal certainty and fairness for all parties. However, fairness and legal certainty for all parties are essential for a healthy charter business in the long run.
We are using international YACHT-POOL Terms & Conditions and follow the obligations and best practices elaborated in the document.
Even more, we have formed a great team of handpicked top talent in the industry and our clients and partners offer us continual support.
As a result, Bruneko Charter can constantly, year after year renew the YACHT-POOL quality seal.
Positive Mood - Bruneko Yacht Charter Team Zadar
Since 1994, with the founding of Bruneko, our mission has been to provide reliable and secure yacht charter Zadar.
Nowadays, safer chartering is much more important than ever before.
With our Checked & Trusted and Fair Charter quality seal, you can plan your holidays months in advance and we will make sure that your payments are safe.
Ready for an adventure on a YACHT-POOL checked and verified charter?
Start your next holiday trip with Bruneko yacht charter Zadar, Croatia.
Make sure to check our yacht offers and choose the perfect boat for your unforgettable yachting vacation.
You have already booked a boat and want to check if the charter company is solid, safe and reliable – Checked & Trusted by YACHT POOL?
Check out a list of audited and trusted companies by Yacht-POOL for 2023. You'll find us listed there as well.
So, join us, and let's make this yet another unforgettable and safe charter season. The seas await.